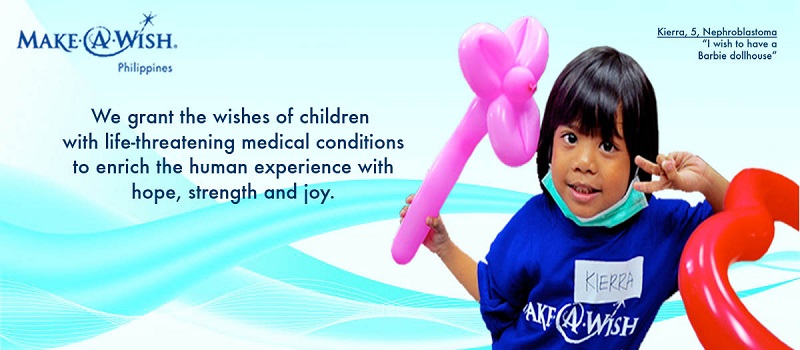 Make-A-Wish® Philippines is the first and only non-profit wish-granting organization in the country. We are an affiliate of Make-A-Wish Foundation® International, the world's largest and most respected wish-granting organization.
Our Mission
Our mission is to grant the wishes of children with life-threatening medical conditions to enrich the human experience with hope, strength, and joy.
The Foundation grants wishes of children in its territory, whatever economic status, gender and religion.
FIRST WISH IN THE PHILIPPINES
Make-A-Wish® Philippines was established in December 1999. The first wish granted in the country was during the welcoming of the new millennium. The first Filipino wish child, Christian, diagnosed with a blood disorder, hemophilia, wished to sing to the world. He went on stage at The Peninsula Manila fountain during the New Year's Eve celebration where he sang a song which was broadcasted around the world. This won the "Wish of the Year International" award.
WHERE WE ARE NOW
The Foundation has granted more than 1,600 wishes since its inception. The organization's headquarters is based in Manila, with core groups in Cebu and Baguio. We aim to grant wishes nationwide with the help of sponsors and volunteers in different provinces.
Click here to know how you can support Make-A-Wish at the Takbo.ph Runfest 2015